The Importance of Acceptance and Representation in Professional Settings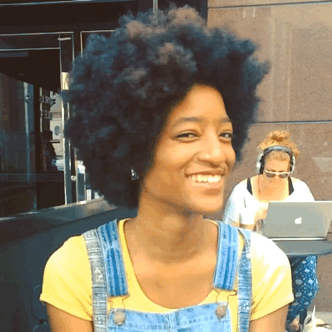 Although the natural hair movement has increased the number of brands and products that promote the health and flourishing of natural hair, along with creating a niche for natural hair moguls in the business realm, kinky/curly hair is STILL deemed unprofessional.
Even when women make the decision to shave their heads, they still aren't satisfied because at least before you had hair on your head, but now you are completely breaking some of the oldest beauty standards for women. Hair has been and in some cultures, is an essential part of a woman's/man's identity. When slavery was legal, slave masters understood the importance that hair had for slaves, and would cut off the hair of both women and men as an attempt to break them into being 'better slaves' by stripping them of their individuality and cultural ties.
As we continue into the post- slavery era, the enforcers of discrimination continued to place systemic barriers on Brown and Black communities by continuing to perpetuate the fallacy that kinky/curly hair is dirty, ugly, dry, and unmanageable. Forcing owners of kinky/curly hair to chemically process or manipulate their hair's natural coils with heat in order to assimilate to the white standard of beauty to reap societal benefits. This oppression is apparent everywhere from social media, and dating to in schools and the job market. The more able black and brown people are to assimilate to white standards has traditionally been the prime way for us to gain promotions, jobs, matches on dating sites, and more chances for other societal perks.
The news clearly details the biases and disgust employers have for kinky/curly related hair textures and hairstyles that hold cultural significance amongst Black and Brown communities. As New York City, has become one of the newest cities to join the collective fight to ban workplace discrimination due to hair, it should remind us that the fight for acceptance of our natural hair and hairstyles remains a modern and continuous fight. Employers that discriminate against hair usually correlate the presence of kinky/coily hair do not align with the attributes they link with performing efficiently in a workplace. It is deemed is often seen as disruptive and intimidating, therefore they enforce policies that go against Title VII of the Civil Rights Act which protects and prohibits discrimination against employees due to protected classes such as race and/or religion in order to promote their ideal workspace.
These policies inversely impact Black and Brown employees that choose to wear their hair in kinky/coil styles or dreadlocks by implying that their hair isn't valued, isn't given prestige, and isn't accepted placing them in a dilemma of either leaving that space in search of an accepting space or a sacrificing a sacred piece of themselves for an intolerant work environment. Not only does these policies simply express that these styles lead to adverse workplace culture, but it signifies that the cultures and values that they may bring to the company also have to be restricted and oppressed.
However there are some spaces that empower Black and Brown people to become successful and to authentically be themselves. Recently, I attended a national convention held annually by the National Society of Black Engineers. At this convention, thousands of Black and Brown pre-college, collegiate, graduate students, and professional engineers gather to promote the collective thriving of Black engineers physically, mentally, professionally, academically across all its members through workshops, networking opportunities, and a two day career with over 100 companies including dozens of fortune 500 companies. In this space fostered with the purpose of promoting Black excellence on a professional track held paramount, women and men had the freedom to co wear their in whichever fashion they were compelled to wear. The companies present may be white owned, but the recruiters were primarily young and Black so it allowed for a more relaxed environment because most of them aren't far removed from undergraduate years or can see their loved ones in convention goers making them better equipped to relate to the black and brown individuals in NSBE.
It is very significant that hallmarkers of our communities' struggle for equity in post-slavery America and Canada continue to advocate for equity in all areas of being a person, especially at NSBE conventions, and to provide a space that celebrates our differences and individuality. If not, it dramatically impairs the fight for equity in these countries because the professional sphere is one of the areas that keeps them economically stable and relevant in politics.
Thus, developing spaces that encourages black and brown people to go against what the colonizers have been enforcing on us for 300+ years now and actually choose which version of their hair is best for them is remarkable and a necessity.
#blackgirljoy #confidence #beauty #blackhistory #naturalhair #blackboyjoy