Open Letter to the Woman in the Airport Who Complimented My Hair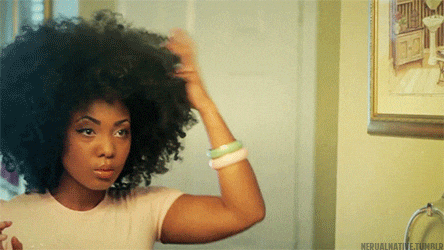 When you told me that you liked my hair, I hope you didn't mistake my automatic smile and thank you as a superficial interaction.
I meant that thank you from the bottom of soul.
When you looked at me and said those kind words, I know you couldn't see the little girl with the chemically damaged hair staring at you.
The girl who would see the look on peoples faces when she would walk around with her "curly hair"
Your compliment went straight to my inner relaxed little girl and showed her the light
My hair journey was long, full of mistakes and ridiculed almost every step of the way
But you know this, or at least I think you do
When you complimented me, there was something in your tone of voice that suggested understanding. You looked at my hair and was happy, not just because it looked pretty, but because I dared to wear it out. To have it unapologetically big, bouncy and loud.
For years black women have been forced to tame their hair with relaxers, straighteners or wigs. Although none of these things anti-black, they are anti- self expression. I have been natural for about 5 years by my own choice, and I cannot imagine not having autonomy over something that grows out of my head.
The freedom of natural hair has manifested into empowerment amongst men and women on the sole basis that they can self identify and express anyway they want.
Your compliments are affirmations that will motivate me to continue to be my most authentic self
Thank you
#beauty #relax #naturalhair #hairdamage #confidence #poem #BostonUniversity