Making Moves While Young, Black, and Talented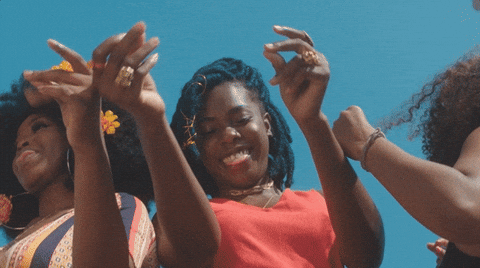 Spring is here! What better way to celebrate our liberation from bulky winter coats and countless layers of clothing than with the blooming flowers and warm weather April has in store for us? Just before we get too caught up in the phenomenon that is spring, keep in mind that March is Women's History Month. So, before this month comes to a close, let's take the time to celebrate the extraordinary young black women who have done extraordinary things for our generation.
Generation Z has produced some of the most remarkable young women who, as of today, range between the ages of 7-24. Despite having just entering adulthood, or at the very least embarking on it, gen Z has made it very transparent that age is not the sole contributor as to what one is capable of. If there is a drive to transform your vision into reality, being "too young" isn't a valid enough excuse when the opportunity to make a difference is at hand, especially for these trailblazing young black women. Whether you are aspiring to be in the fashion world, instituting your very own business or organization, advocating for your beliefs, or just simply trying to get your peers involved, no task is too big for a young person whose objective is to succeed.
So, here is a layout of generation Z's five most influential black women (in no particular order). Their accomplishments thus far in their careers are nothing short of inspiring proving that us black girls can achieve just about anything!
1. Yara Shahidi (19 years old)
Hailing from the widely popular ABC sitcom Black-ish, Yara Shahidi has now landed her very own spin-off show, Grown-ish, securing a name (and a bag) for herself within the Hollywood industry. Outside of acting, Shahidi is also an activist who has founded the organization Eighteen x 18 which is committed to encouraging young people to register and vote. Throughout her career, Shahidi has tackled the stereotype that young people are socially unaware of the climate in which we live through her dedication to activism. Now with her very own Barbie doll apart of the "Shero" campaign, Shahidi has made us very aware that we, as both young people and as women, are more than capable of achieving just about it all. Not to mention, Shahidi is currently enrolled in Harvard as class of 2022!
2. Marsai Martin (14 years old)
Like her on screen big sis Shahidi, Marsai Martin too stars in ABC's comedy series Black-ish while simultaneously shifting the rules all throughout Hollywood. Since the young age of 13, Martin has been set to become Hollywood's youngest ever executive producer upon the release of the highly awaited 2019 film Little which she stars in alongside the likes of Regina Hall and Issa Rae. This film will also be the Texas born actress's first studio feature film, as if executive producer credits weren't already enough. Additionally, Martin is the CEO of her very own production company, Genius productions, and just recently signed a first-look deal with Universal studios. An absolute boss in every way!
3. Zendaya (22 years old)
This former Disney star has been making big moves ever since starring in Disney's hit shows K.C Undercover and Shake It Up. Since her teenage success, Zendaya has gone on to star in various other big projects throughout Hollywood such as The Greatest Showman and Spider-Man: Homecoming. As of today, Zendaya has ventured out into both the fashion industry and makeup industry finding success in both departments. Just recently, Zendaya has debuted her collaboration with Tommy Hilfiger and has been announced as the new Global Ambassador for Lancôme. Zendaya is an actress, singer, model, humanitarian and so much more, but who says it must end there?
4. China Anne McClain (20 years old)
They grow up so fast! McClain has been widely known throughout the Hollywood industry since she was only about 7 years old as some may remember. If you grew up watching either Tyler Perry's House of Payne, A.N.T Farm or have seen the films Grown Ups, 1 and 2, or Daddy's Girls (the list can go on), then you know exactly who this young woman is. Now, the nearly 21 year old actress continues to occupy our television screens in her role as not just a superhero on one channel, but an evil villain as well on an entirely different station! In CW's hit series Black Lightning, McClain portrays Jennifer Pierce, the daughter of Black Lightning himself, equipped with jaw dropping electrical powers. McClain also stars in Disney Channel's original movie Descendants 2 and 3 as Uma, the daughter of Ursula. Additionally, McClain is a participating member in the girl group McClain alongside sisters Lauryn and Siearra McClain. What is it that she can't do?
5. Chloe x Halle (20 and 19 years old)
This R&B sister duo has surely made a name for themselves as they have skyrocketed to fame upon being signed by the Queen Bey herself. These sisters, though commonly mistaken for twins, star in Freeform's ever so popular series Grown-ish portraying star athlete twins Jazlyn and Skylar. The sisters have also written and performed the shows theme song entitled "Grown". In 2018, Chloe x Halle released their first studio album The Kids Are Alright which proved to be a huge success for the two young women as it was written and executive produced by themselves. If they are not sister goals as well as boss goals, what are they? We can't also help but to mention the Grammy nominated duos beautiful 2019 Superbowl performance of "America the Beautiful" because honestly, it was nothing short of jaw dropping. Check it out here!
#selfcare #school #lifestyle #campuscurlz #college #empower #happiness #blackgirlmagic #yarashahidi #marsaimartin #zendaya #chinaannemcclain #chloexhalle #young #blackwomen #blackgirls #hollywood #younghollywood #blackhollywood #march #womenshistorymonth #generationz #spring